Dehradun Sightseeing
Following is the list tourist places in Dehradun. These are some of the popular tourist spots in Dehradun.
Jwalaji Temple: This place is also known as Benog Hill. There is Jawalaji Temple here with Durga Devi as its deity. Benog hill is set at an altitude of 2104mts above sea level and is 9 km west ofMussoorie. It is situated on the top of the Benog Hill and looks like the crown of the hill. Surrounded by thick forest Benog Hill affords marvelous views of Yamuna Valley and Doon Valley.
Sahastradhara:
The name 'Sahastradhara' means the site of 'thousand springs'. Situated near Rajpur Village, approximately 16 km from the major township of Dehradun, it is a very popular picnic spot. The place becomes more attractive during rainy season, when there is abundance of water in the springs. The water of sulphur spring is assumed to have some medicinal properties that can help cure skin ailments.
Santaura Devi Temple: The temple of Santaura Devi is located approximately 16 km away from Dehradun, in Santur Garh. It is most crowded on Saturdays, as it is regarded to be the day of Goddess Santaura Devi and Her brother.
Bhadraj Temple: There is a temple dedicated to the brother of Lord Krishna, Lord Balbhadra. Enchanting view of the Doon Valley and Chakrata ranges are captivating from this place. Bhadraj Temple is situated 15km from Dehradun.
Lachhiwala: Lachiwala is situated in the suburbs of the city of Dehradun where fresh water comes from a stream. At Lachiwala the stream enters into different pools which are spread over 700mts of area. The water level is from 4ft height to 7ft in different pools.
Malsi Deer Park:
 It is a zoological park at the base of the Shivalik Range in Dehradun. Malsi Deer Park is well maintained and it is home of two horned deer, Tiger, Neelgai, Peacock and many other animals. It is an ideal spot for picnicking.
Robber's Cave: It is the most popular tourist place of Dehradun. Also known as Guchhipani, Robber's Cave is an ideal destination to spend the holiday in an immaculate atmosphere. It is bounded by imposing hills showcasing an amazing scenario of nature's beauty. An easy trek of 1km will lead you to the refreshing stream of Robber's Cave.
Tapkeshwar Temple: Tapkeshwar temple is an ancient temple of Lord Shiva, situated approximately 8 km from Dehradun, on the banks of a stream, in Garhi Cant. This place holds a lot of reverence amongst the devotees of Lord Shiva.
Rajaji National Park: Rajaji National Park was founded in 1966 and spreads over an area of 820 sq.kms, the park with it's magnificent ecosystem, is nestled in the lush valley of Shivalik ranges. It represents the flora of several zones of the forest, reverine, broad leaf mixed forest, chirpine forest, scrub land and grassy pasture lands.
The Kalinga War Memorial, Sahastradhara Road: The only war memorial of its kind in the world which was erected by the British to honour their foe, the Gurkhas (or the Gorkhas).
The Museum, Forest Research Institute: Lavish environs and one of the largest institutes of its kind. Guided tours available. Open:9AM-1PM and 2:30PM-5:30PM. Admission free. Photographs are allowed, but no flash indoors.
Mindrolling Monastery: A large Buddhist monastery in the Tibetan Nyingma tradition.
Chetwoode Hall, The Indian Military Academy: A charming little museum housing collections of 20th century military artifacts.
Clock Tower, Rajpur Road (Rajpur and Gandhi Roads crossing):Built by the British, this remains the icon of the downtown area.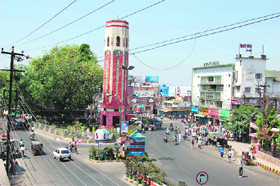 Ram Rai Darbar, Jhanda Mohalla: Built by Guru Har Rai's son, it attracts many Sikh pilgrims from the nearby state of Punjab. Admission is free and non-Sikhs are welcome.
Sai Darbar Temple, Rajpur Road: This place of worship holds a high spiritual value, and is thus visited by tourists across the country.
The Char Siddhs: comprising a group of four temples around Dehradun : Lakshman Siddh (along the Dehradun-Rishikesh road 12 km from Dehradun), Kalu Siddh (near Baniyawala), Manak Siddh (near Shimla Bypass Road) and Madu Siddh (near Premnagar). Small temples in scenic and as yet unspoilt locales. It is commonly believed that visitng all four Siddhs in a single day will fulfill a devotee's wishes.
List of Dehradun Sightseeing and tourist spots in Dehradun. There are many places to visit see of tourist interest in Dehradun like: Bhadraj Temple, Jwalaji Temple, Lachiwala, Malsi Deer Park, Robbers Cave, Sahastradhara. All of these places are well known tourist spots in Dehradun Uttarakhand India.